Built Engine Versus Stock Engine as of 9-5-03 second set of data
JE Flat top pistons, Houston Performance CNC P/P heads, BBK longtubes open both runs, HP Nitrous grind cams, HP Motorsports short runner intake, SHM Valve Gear kit.
Both runs were open exhaust, slicks on the rollers. Stock engine run was first run of the day in March when I was really working on nitrous system stuff, so is a little lower than it could have been from an absolute value. At most, this engine is good for 300+ a little in the stock, never-had-a-valve-cover off, status.
Note that the power is less than stock below 5400 rpm and much better than stock above 5400. At 6800 rpm, the gain is a whopping 77 HP, but the peaks differ by 48 hp. Obviously, a rev limiter reset is needed, if the peak on the new motor is as high as 6700 rpm. If I could shift it at 7600, I could bracket the power peak a lot better than shifting it at 6800.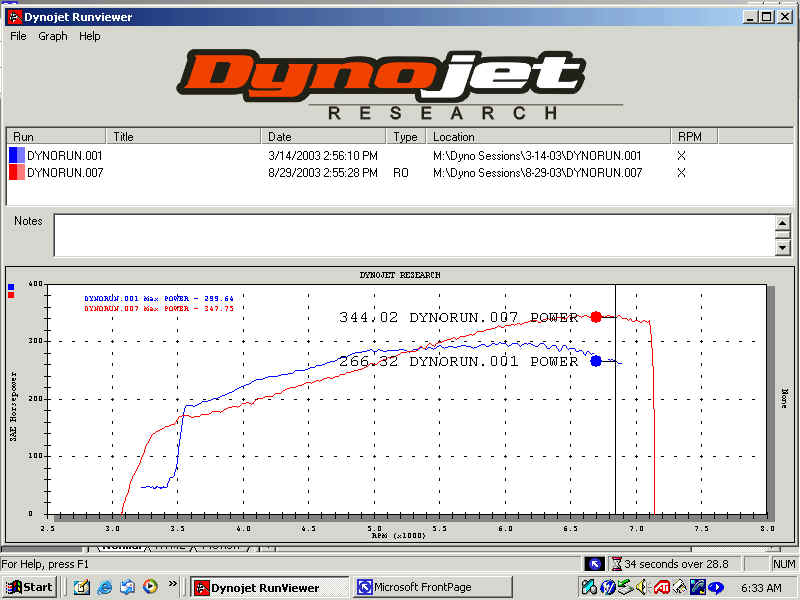 Here are the all motor torque curves..
The toughest thing I saw on the dyno was that the MAF calibration was affected by the short runner intake. I need to get the air fuel ratio curve tuned back in perfectly, and we didn't have time to do that on Friday, 8-29.
Nitrous Comparisons
Got to do a dyno run and then go to the drag strip on 9/5/03. Dyno numbers were excellent. Compared to the March stock motor run is shown below
Here are the torque curves on a 100 shot...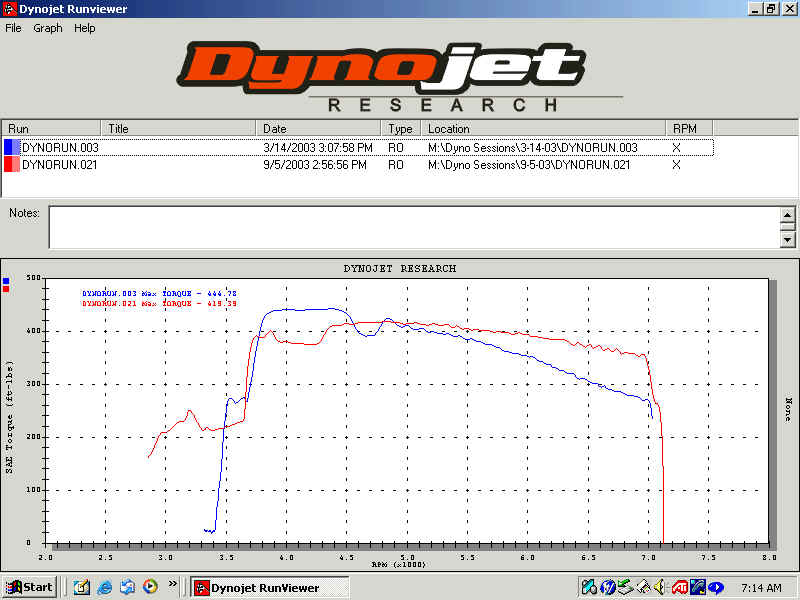 With this tune, the car went 11.57 at 118 mph twice in 4590 feet density altitude air (3000 ft actual altitude) with a 1.48 sec 60' time. When the rev limiter is reset to 8000 rpm, the average hp over the old motor with a 100 shot will be a bunch of hp.
I am confident the car will run low 11s at my home strip with a 150 hp shot, and may actually run 10s in November at Ennis or HRP in better air.
Joe Lynch
Midland, TX